| | | |
| --- | --- | --- |
| " | Meditate on the preciousness of life as you close and open a small wooden box with three objects, different every time. Some of them change, break, fall apart. A gold star is awarded every time three identical objects appear. Consider how lucky you are! Mesmerizing. Hypnotizing. Relaxing. | " |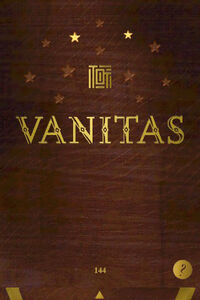 Vanitas is a video game developed by Tale of Tales. It is said to be a memento mori (Latin for "remember your mortality") in the palm of your hand. This iPhone game was released on February 4, 2010. It is said "to lift you up when you're feeling down, and drag you down when you're up too high".
There is no "winning" in Vanitas. The player can earn up to 12 gold stars on the lid if they are lucky enough to have three identical items placed in the box, but there is no competition to this game. The game gets its name from vanitas, a style of art from 16th and 17th century northern Europe. The word is Latin for "loneliness", and vanita pieces show the meaninglessness of one's time on earth and the transient nature of vanity. The game was made to put you in a state of contemplation or even inspiration with each of the 40,000 different image combinations, the thought provoking messages, the subtle sound effects, and the brilliant musical punctuation by avant cellist, Zoe Keating.
Every time the player slides open the wooden box, 3 randomly generated objects appear. There are 35 different, realistic objects that are placed in the box, that change and age according to which of the 12 stages you are in. Some items move, and many change as you advance through the stages by opening the box multiple times. The player may also interact with the contents of the box; bubbles can be popped and lady bugs can be prodded into flight. Sometimes when the box is closed, one of the 24 quotes will appear in gold on the lid. The topics of these quotes range from vanity to wisdom, and are from great authors like Rimbaud, Sappho, Nietzsche and Kundera.
There is a counter on the lid of the box that keeps track of the number of times the box has been opened and closed (e.i. the box in the picture has been opened 144 times), and a button in the lower right hand corner that explains the game and allows you to reset the counter. After every 15 openings, the stage changes. After 180 openings, all items are in their final forms.